This year's Daffodil Bulb Sale will be an in-person event. 
It will be held at the Village Green Mall in Fairfield Glade
Thursday, October 21st from 8:00 – 2:00 and Friday, October 22nd from 8:30 – 2:00
You will have 5 unusual bulbs to choose from (see below). We will sell them in packs of 5 bulbs for $10.00
Thank you, in advance, for supporting our local students!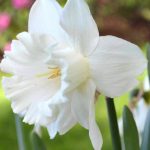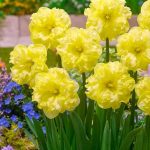 Daffodil 'Art Design' – One of Spring's great little masterpieces, brought to you by nature. Few daffodils can be compared with the beauty and elegance of 'Art Design'. A dazzling flower with a very double showy cup. The petals turn yellow and white in the beginning and as they develop it changes to a color of cream and peach. The scent of this daffodil is also delicious. This new narcissus is a must have for every gardener. Very popular in flower bouquets due to its unique colors.
Height: 14-16 Inches. 
Bulb Size: Top Size 14/+
Daffodil 'Mount Hood' is a pure white daffodil with gorgeous blooms which shines like stars at any time of the day. Suitable for forcing, this grower's favorite daffodil is suitable for use as a pot plant or as a tough landscape subject that flowers year after year without any pampering.
Height: 16 Inches. 
Bulb Size: Top Size 15/17
The unusual, many-petalled blooms of the double varieties also include some remarkable color combinations as embodied in the blooms of this variety. The double white petals are lined with frills of pink and salmon at the center of the blooms.
Height:16Inches. 
Bulb Size: Top Size 15/17
Butterfly Daffodil 'Sunny Side Up' is an award-winning Narcissus. The flowers are creamy yellow and the ruffled cup makes it a true Butterfly Daffodil. Add sunshine to your spring garden by planting this novelty narcissus. Stunning in large numbers and excellent cut flowers.
Height: 16 Inches. 
Bulb Size: Top Size 14/16
You're guaranteed an unbeatable spring display with this delightful rockgarden Mini Daffodil Mix! Mini Daffodils or Rock Garden Narcissus are excellent for the rock gardens, borders, beds, window boxes and for naturalizing. Most of the varieties are multi-flowering. Announce the spring with these cheerful little plants that have been bred with landscape success in mind. Great for naturalizing! Very popular mix.
Height: Up To 14 Inches. 
Bulb Size: Top Size 12/+